Z-Trap Beaver Live Cage Trap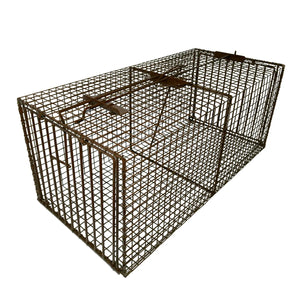 Product image 1
Product image 2
Z-Trap Beaver Live Cage Trap
We built these cages so tough even the meanest animals will be helpless trying to break out of this trap.
Choose from single door or double door setup. 
Heavy Duty 12 Gauge Wire
Two-way Trigger
Quick-Set Door. (Patent Pending)
Double Door Lock Rings
Large Bite Guard to Keep Your Hand Safe
Bait Door (Single Door Only)
Rugged Powder Coat Finish
Single or Double Door Option Available

36" x 15" x 18"
BEAVER- NUTRIA - RACCOON - OTTER